Based on your pricing plan, you can assign more than one user to company's account by following these steps:

- log in to MyOKEO application




- go to "Services"




- click "Add new user fully online" and confirm your action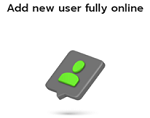 - provide the name, surname and e-mail address



Note: For your funds safety, we'll ask your newly invited user to verify their identity.
Newly invited user will need to upload a Power of Attorney confirming their right to manage company's account at Okeo Payments UAB. The document must be legalised with the apostille, notarised and should include the validity date.

Please be aware that the documents should be in English or Lithuanian, or translated by a certified translator.